LLSBA 130th ANNIVERSARY CHRISTMAS PRESENTS!!
Roll up, Roll up and get your Christmas presents for all your friends and family in shop and support the LLSBA at the same time ready for another year of excitement!!! Available from:Sue Hatton via email to whitelodgefrisby@btinternet.com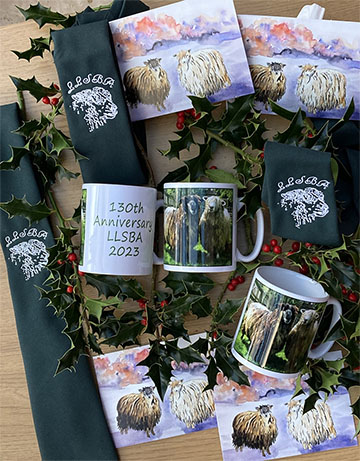 MUGS @ £10 each and £3.50 P&P
TIES @ £15 each inc P&P
CARDS-10 for £10 inc P&P
Payment to: Natwest account: 40146553 Sort code 60-07-05 (LLSBA)
Leicester Longwools
To preserve any rare breeds it is important that they are valued. They hold a unique store of genetic traits which are now recognised as valuable to the national commercial flock, being very hardy, good mothers, and providing wonderful fleeces and exceedingly good mutton. They can play a positive role in modern agriculture.
Leicester Longwools can trace their heritage back over 200 years to sheep breeder and agricultural pioneer Robert Bakewell (1725 -1795). They were developed at Dishley Grange in Leicestershire to produce a big framed animal to supply large quantities of meat and wool to meet the demands of the workforce at the start of the Agricultural revolution. This made it a very important breed in its day.
Bakewell spent most of his life experimenting with various farming projects, including Shire horses, the now famous Longhorn Cattle, draining and improving pasture, cabbages and turnips. He pioneered selective breeding and one of the results of his efforts are the sheep we now value as Leicester Longwools.
Read more
Advertising opportunity for members
Updated Registry Information
Click here to download the new explainer .PDF for registering.
Click this link to go to GrassRoots and watch a video explainer.